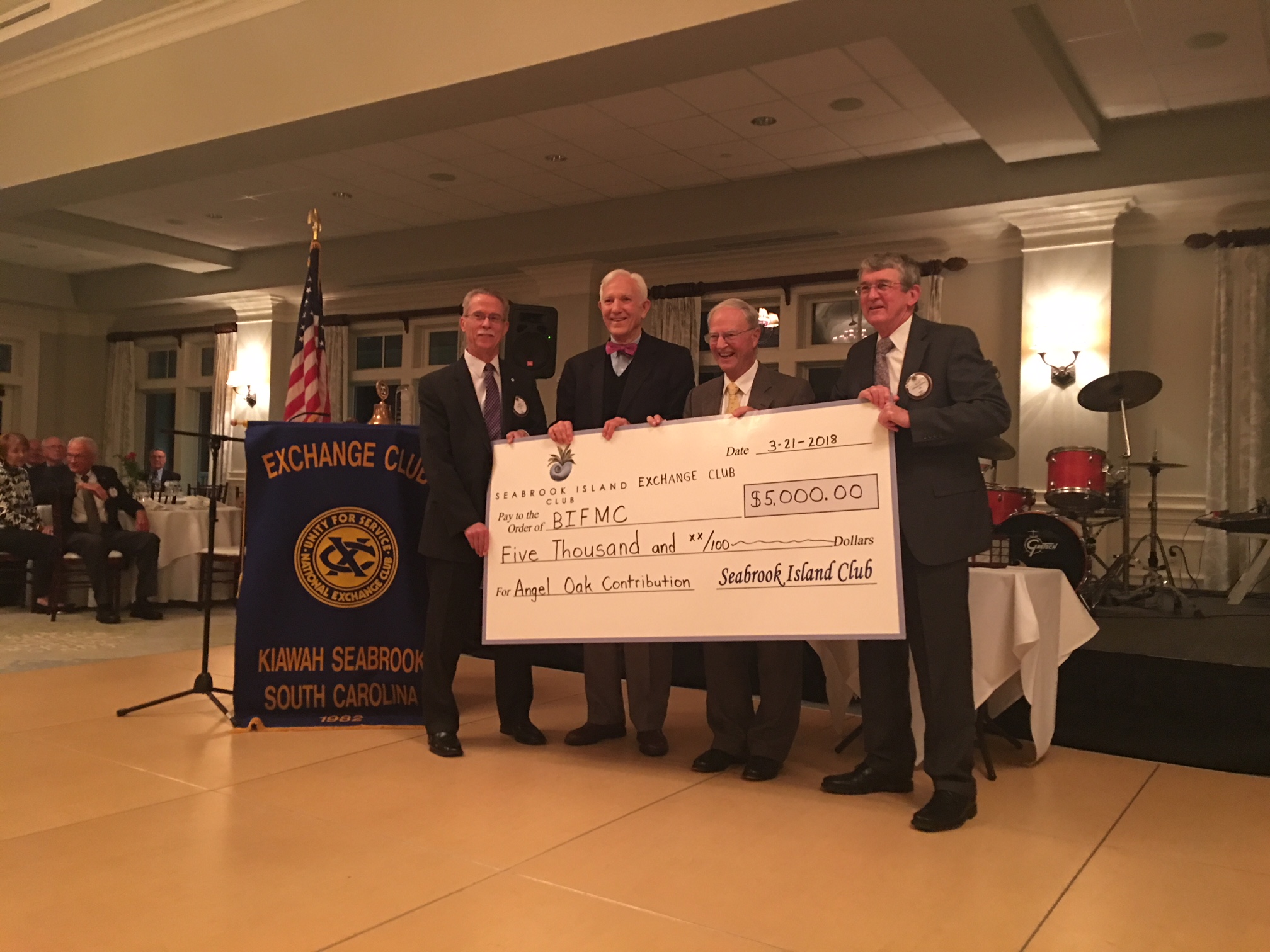 Dr. Victor Agusta, volunteer physician at Barrier Island Free Medical Clinic, was presented with the 2018 Kiawah-Seabrook Exchange Club Angel Oak Award on Wednesday, March 21. The ceremony was held at the Seabrook Country Club.
The prestigious award was established by the Kiawah Seabrook Exchange Club in 2012 to "recognize a volunteer who has made an outstanding contribution to the people or quality of life of Johns Island, Wadmalaw Island, Kiawah Island, and/or Seabrook Island." Dr. Agusta, nominated by BIFMC Board Chairman Dr. Jim Hayes, was one of the original volunteer physicians to practice at the free clinic, and is now in his eighth year of treating low income, uninsured workers and residents on Johns, James and Wadmalaw Islands. He is also one of the biggest volunteer physician recruiters for the organization.
The recipient of the Angel Oak Award is presented with a $5000 contribution to the charitable organization of his or her choice; Dr. Agusta chose to donate the award to Barrier Islands Free Medical Clinic.
Dr. Charlie Davis, co-founder of Barrier Islands Free Medical Clinic, was the recipient of the first Angel Oak Award presented in 2012.
You can read more about Dr. Agusta's life and career in BIFMC's Pillar Profile bio.
Thanks to volunteers like Dr. Augusta and donors like you, each month BIFMC is able to treat hundreds of uninsured community members that live or work on Johns, James and Wadmalaw Islands. If you would like to make a gift to support our free clinic and services, please Donate Here.
Barrier Islands Free Medical Clinic is a free clinic in Charleston, SC, that provides free medical care to eligible patients, just like any family practitioner or internist. The Free Clinic serves uninsured adults living at or below 200 % of the Federal poverty level who live or work on Johns, Wadmalaw or James Islands. You can follow us on Facebook, Twitter, Instagram and YouTube.
A Day to Look Good - and Feel Even Better. BIFMC'S Annual Fashion for a Cause and Sip n Shop will take place from 11am...