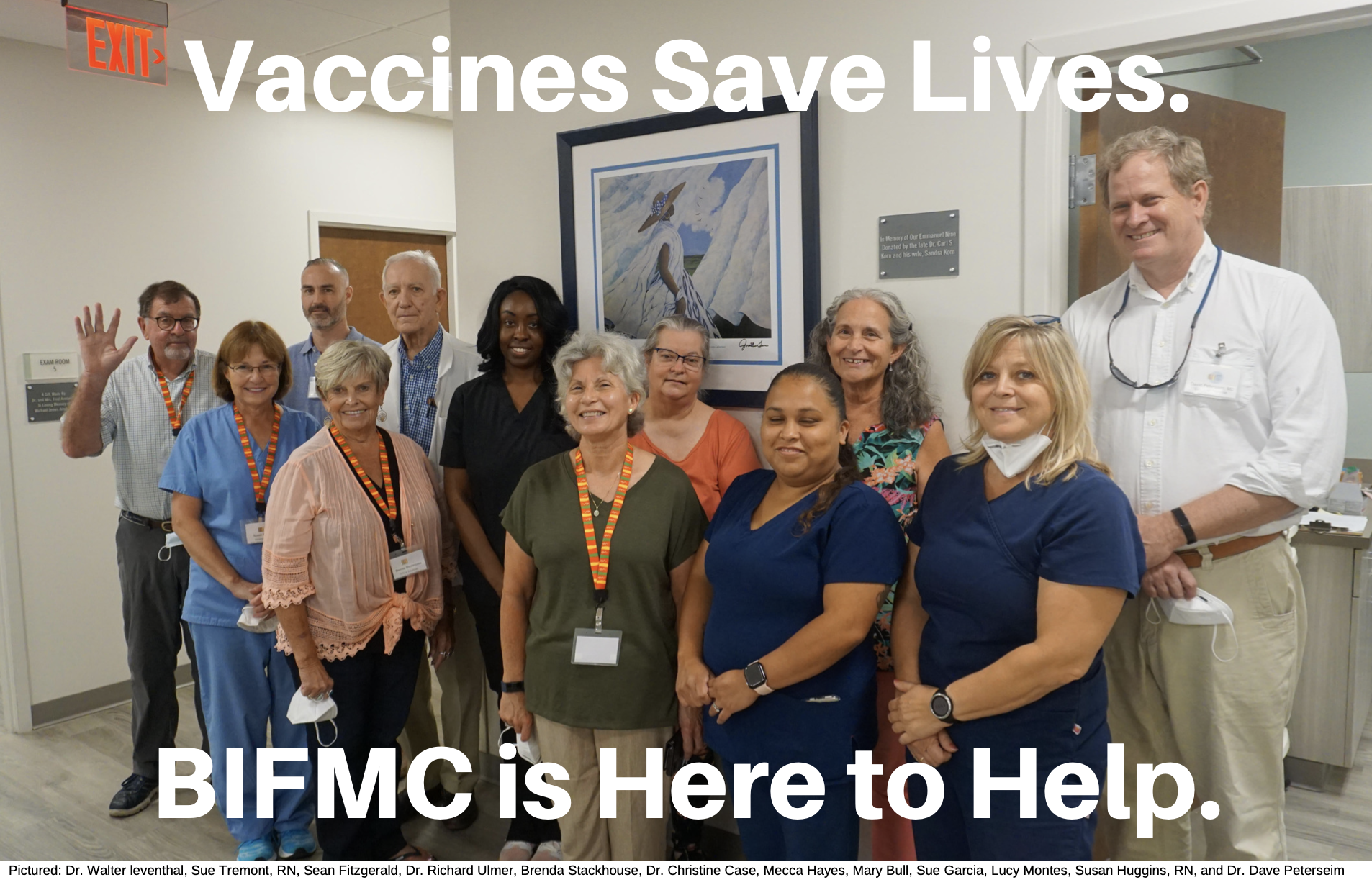 Barrier Islands Free Medical Clinic has safely administered hundreds of Covid-19 vaccines to adults across the Lowcountry – and will continue until the pandemic is brought to an end.
While the last year has seen challenges and sorrows that few have seen or experienced in their lifetimes, it has also proven to be a moment in BIFMC history characterized by profound determination and leadership.
In the Spring of 2020, under the guidance of former Medical Director, Dr. Richard Ulmer, the Clinic was able to safely and rapidly mobilize to continue to support patients throughout the shutdown, keeping clinic operations running and providing access to telemedicine to ensure patients had continuous access to critical care and prescriptions. The Clinic further provided masks, sanitation, and pantry supplies to adults in need, including outreach efforts to expand their patient load and help dispel myths surrounding COVID-19 while directing the public to testing and vaccination sites. By the Spring of 2021, BIFMC had already created its own MASH unit to serve as a community vaccination site open to all, joining the front lines of COVID-19 vaccination efforts to inoculate hundreds of adults across the Lowcountry.
Jerrie Vane, RN, longtime nurse and Clinic volunteer since 2016, has been instrumental in the successful implementation of new COVID-19 protocols and the many COVID vaccination clinics that have occurred at BIFMC throughout the pandemic – along with the vital partnership of the local Dottie's Pharmacy that formed last April.
"We simply could not have done the vaccine clinics without Dottie Farfone, Connolly Behr and their team at Dottie's Pharmacy," shares Vane of the recent community partnership. "They were an invaluable source of information, assistance, technical support, supplies and most importantly- the vaccines. Working with them has been incredibly rewarding on a number of levels. Their expertise and professionalism were inspiring to behold. I can't say enough about them."
Through this critical team work, those seeking answers about the vaccination process and possible side effects were able to find support in a trusted, localized community presence that had already been providing access to care for those without health insurance or who lived on the rural outskirts of Charleston county.
"I think the clinic has been a good place for vaccine administration because of the drive-through aspect we offered; it was convenient for patients, and we already knew many of them coming through the line for a vaccine," Vane states. "This created trust; if there were any fears about getting a vaccine, knowing the nurses and doctors who staffed the clinics helped to lessen that fear. We took our time to explain what we were doing and were knowledgeable enough to provide answers and reassurance, or tell them where to find answers."
Even still, efforts to dispel myths surrounding the vaccines have been an uphill battle for many, with local health leaders pleading with those vaccinated to discuss the safety and effectiveness of vaccines with loved ones and family members who have yet to be inoculated against COVID-19 (As of August 2021, the FDA has since given full approval of the Pfizer vaccine, one of the multiple vaccines options that BIFMC provides at their public clinics in addition to Moderna and the single dose Johnson & Johnson.)
"I have spoken to many people hesitant to take the vaccine," shares Vane, "for reasons ranging from fear and misinformation spread online, to those who felt their immune systems were fine and just didn't want to take a chance. I was seldom able to influence their decisions. My choice was to just keep trying and to organize clinics for those that wanted to get a vaccine, while still encouraging the resistant."
As the next pandemic wave rages with the arrival of the Delta Variant and the nation turns yet another corner in the ongoing health crisis, BIFMC's commitment to serve the community has only deepened in its resolve to help minimize the spread, remaining steadfast in their mission to provide a free medical home to those without access to healthcare. Clinic goals and development strategy have since shifted to include public vaccination efforts for the foreseeable future, as well as rigorous outreach to expand patient load – particularly to hospitality workers – who have been among those hit hardest by health and financial instability due to COVID-19.
As long as the coronavirus continues to spread while the medical community races to confront the new variants and lagging vaccination rates, Vane anticipates BIFMC will continue to stay on the forefront of vaccination efforts.
"As much as I would love for the need to continue giving Covid vaccines to disappear, go away, leave the building, it doesn't look like that will happen anytime soon. So, chances are we will continue to organize clinics while keeping abreast of the latest advice from the CDC and other medical professionals…But hope springs eternal."
To date, the clinic has provided access to COVID-19 vaccines to more than 500 adults across the lowcountry, and will continue to provide access for the duration of the crisis. You can find upcoming vaccination clinics provided through BIFMC and Dottie's Pharmacy by following Barrier Islands Free Clinic on Facebook and Twitter, or call 843-266-9800 for more information. If you would like to give to support Clinic vaccination efforts, donate today at www.bifmc.org.
Barrier Islands Free Medical Clinic is a free clinic in Charleston, SC, that provides free medical care to uninsured adults. The Free Clinic serves adults with no health insurance living at or below 299 % of the Federal poverty level who live or work on Johns, James, & Wadmalaw Island or Folly Beach, or serve the Hospitality Industry of Downtown Charleston. You can sign up for our monthly e-news updates, or follow us on Facebook, Twitter, Instagram and YouTube.
A Day to Look Good - and Feel Even Better. BIFMC'S Annual Fashion for a Cause and Sip n Shop will take place from 11am...