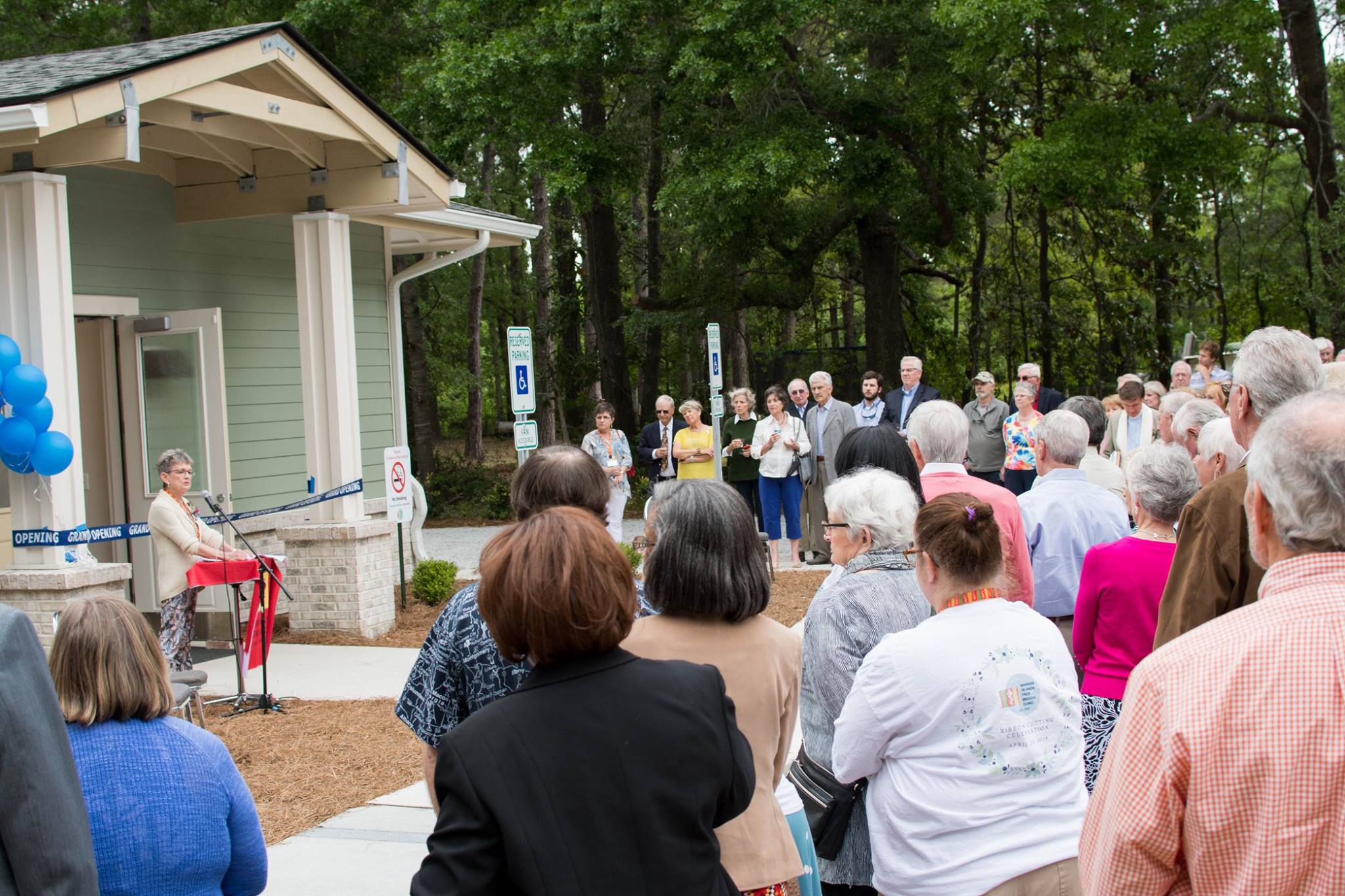 Barrier Islands Free Medical Clinic held a Ribbon Cutting Celebration and Grand Opening on Sunday, April 22, 2018. The Free Clinic recently opened its seven-exam facility room doors to treat even more uninsured adults who live or work on Johns, James and Wadmalaw Islands.
Surrounded by supporters and community members, staff and volunteers, it was a joyous occasion as the Grand Opening ribbon was cut by Clinic Board Member, Townsend Clarkson. [Watch Select Video of the Event Here]
Construction of the building, under the direction of T.Y. Lin International | Lindbergh, was completed in early March. In the new facility, Clinic medical staff will continue to serve the health and wellness needs of uninsured adults, and hope to increase patient outreach within. The new facility, located at 3226 Maybank Highway, Building C, on Johns Island, was built directly behind the form rented space used to treat over 350 patients per month. [Watch a Slideshow of the Construction here]
Founded in 2006 by Drs. Charlie Davis and the late Arthur S. Booth, the free clinic set out to provide a medical home and continuing primary health care to uninsured adults living or working at or below 200 % of the Federal poverty level on Johns, Wadmalaw or James Island (inclusive of the following zip codes: 29455, 29487 and 29412), and who make $24,280 or less annually within a single person household.
An affiliate of the Volunteers In Medicine organization, the clinic utilizes the volunteers efforts of 122 medical professionals and staff, many who have retired but still hold license to practice in the state of South Carolina. Currently, Barrier Islands Free Medical Clinic provides free primary care to over 350 uninsured patients each month; the Clinic estimates that the new, seven exam room facility will better position the Clinic to accommodate more than 600 individuals per month. The Clinic continues to fundraise in order to outfit the new building with medical equipment and furnishings. For information regarding the new clinic and how you can help, visit www.bifmc.org/build/. For more information on patient eligibility, visit www.bifmc.org.
Find more photos from the Grand Opening event here.
Barrier Islands Free Medical Clinic is a free clinic in Charleston, SC, that provides free medical care to eligible patients, just like any family practitioner or internist. The Free Clinic serves uninsured adults living at or below 200 % of the Federal poverty level who live or work on Johns, Wadmalaw or James Islands. You can follow us on Facebook, Twitter, Instagram and YouTube.
At Barrier Islands Free Medical Clinic, we like to shine a spotlight on our exceptional volunteers! From medical staff to voluntary administration, BIFMC is able to provide a warm,...