Our clinic is able to operate and serve hundreds of uninsured patients who live or work on Johns, James and Wadmalaw Island – thanks to the good will and contribution of our donors. Each month, BIFMC will pay tribute to one of our many generous supporters who seek to improve the overall health and goodwill of the community.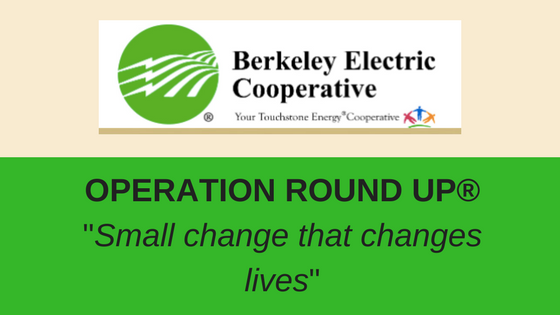 This month, we shine a spotlight on Berkeley Electric Cooperative and their Operation Round Up program! Through a steady series of grants provided by the co-op over the past several years, Barrier Islands Free Medical Clinic has been able to stock free supplies for the Clinic's uninsured diabetes patients.
"Many of the patients we see are diabetic," Clinic Director, Brenda Falls, explains. "Without insurance, these supplies are very expensive- but critical for keeping their conditions under control.The grants we have received through the generosity of Berkeley Electric and Operation Round Up have been invaluable to our Clinic and diabetic patient care."
The Cooperative's charitable program, Operation Round-Up, "gives customers the opportunity to support [charitable] causes through their monthly electric bill." Customers who sign up for the program agree to round their monthly electric bill up to the nearest dollar, with those proceeds going to support local charitable projects and non profits.
Wendy Kulick, who serves on the Berkeley Electric Trust Board of Directors, states, "We all know how generous Kiawah property owners are. We support so many charitable entities. It has been a privilege to work with our less fortunate neighbors on Johns and Wadmalaw Islands, as well as in Ravenel and Hollywood."
If you currently receive services via Berkeley Electric and would like to learn more or sign up for Operation Round-Up, click here.
If you are interested in making a charitable contribution to Barrier Islands Free Medical Clinic, please click here. To learn more about how your generous donation helps our patients, click here.
You can find all of our previous Donor Spotlight features here.
Barrier Islands Free Medical Clinic provides medical care to eligible patients, just like any family practitioner or internist – but it is free. We serve uninsured adults living at or below 200 % of the Federal poverty level who live or work on Johns, Wadmalaw or James Islands. You can follow us on Facebook, Twitter, Instagram and YouTube.
At Barrier Islands Free Medical Clinic, we like to shine a spotlight on our exceptional volunteers! From medical staff to voluntary administration, BIFMC is able to provide a warm,...