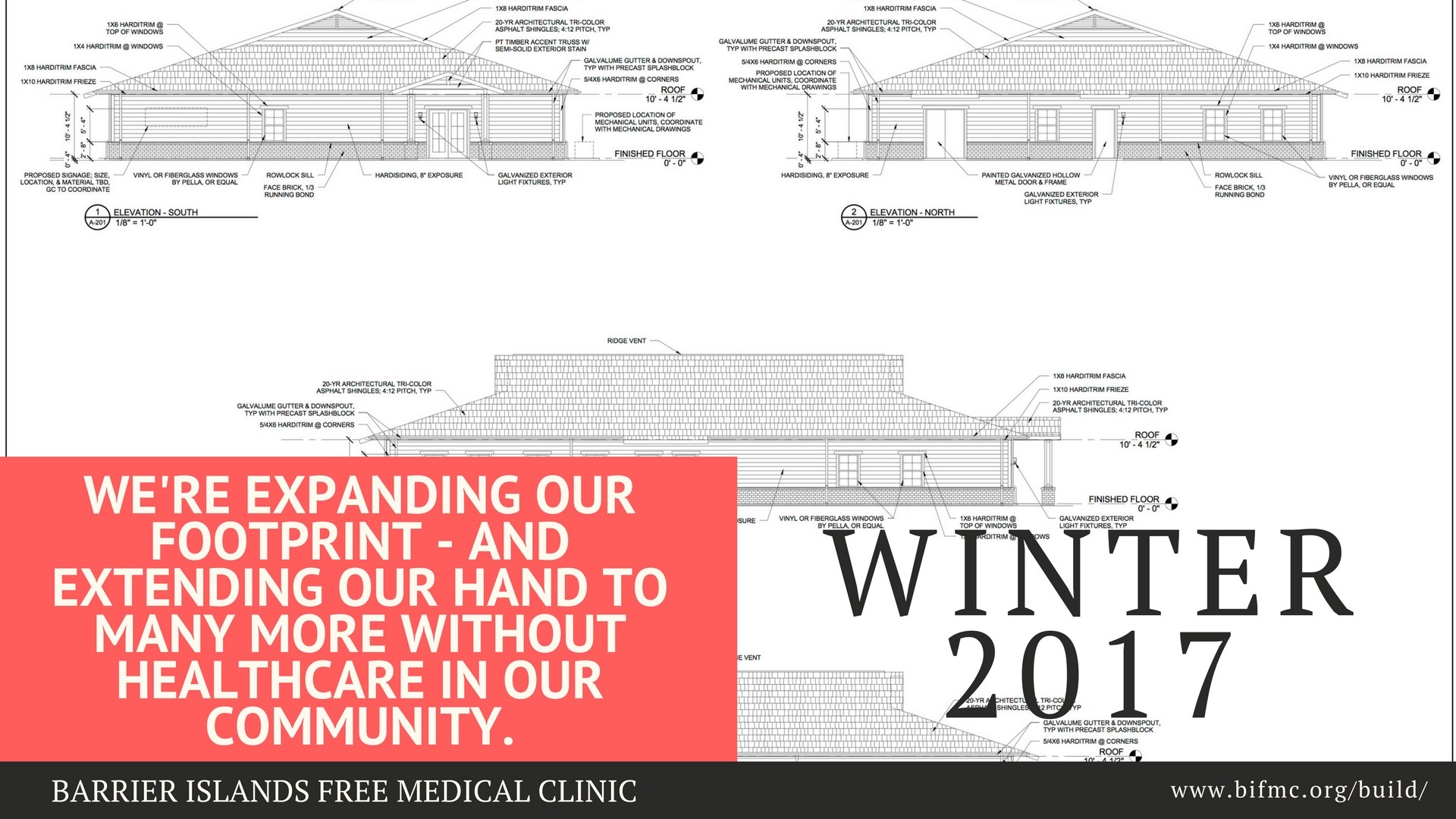 Barrier Islands Free Medical Clinic is thrilled to announce immediate plans to begin construction of a large, seven-exam room free medical facility where clinic medical staff will continue to serve the health and wellness needs of uninsured adults who reside or work on Johns, James, and Wadmalaw Islands. Construction will commence this month under the direction of T.Y. Lin International | Lindbergh. The new facility, which will be constructed in the lot directly behind the current clinic site at 3226 Maybank Highway on Johns Island, is anticipated to open its doors to patients by January of 2018. The current clinic suite will continue to operate as usual during the anticipated six month construction period.
With a small groundbreaking ceremony that took place in July, Clinic staff and board members celebrated the momentous occasion. Founded in 2006 by Drs. Charlie Davis and the late Arthur S. Booth, the free clinic set out to "provide a medical home and continuing primary health care to uninsured adults living or working at or below 200 % of the Federal poverty level on Johns, Wadmalaw or James Island." An affiliate of the Volunteers In Medicine organization, the clinic utilizes the volunteers efforts of 122 medical professionals and staff, many who have retired but still hold license to practice in the state of South Carolina.
Clinic Board Chairman and Volunteer Physician, Dr. Jim Hayes, comments, "We are excited about the construction of a new clinic building to solve our space issues, and I hope secondary gains will increase operational efficiencies and perhaps expand our service area. My sincere thank you to our volunteers, grantors and donors for their support."
Currently, Barrier Islands Free Medical Clinic provides free primary care to over 350 uninsured patients each month; the Clinic estimates that the new, seven exam room facility will better position the Clinic to accommodate more than 600 individuals per month. The Clinic will be fundraising during the months to come in order to outfit the new building with medical equipment and furnishings. For information regarding the new clinic construction and how you can help, visit www.bifmc.org/build/. For more information on patient eligibility, visit www.bifmc.org.
View images from BIFMC's Ground Breaking Ceremony.
All Press Inquiries, Please Contact BIFMC Marketing & Communications Specialist, Carrie Moores, at cmoores.bifmc@gmail.com
Follow the Growth of Barrier Islands Free Medical Clinic on Facebook, Twitter, Instagram.
Barrier Islands Free Medical Clinic is a free clinic in Charleston, SC, that provides free medical care to eligible patients, just like any family practitioner or internist. The Free Clinic serves uninsured adults living at or below 200 % of the Federal poverty level who live or work on Johns, Wadmalaw or James Islands. You can follow us on Facebook, Twitter, Instagram and YouTube.
At Barrier Islands Free Medical Clinic, we like to shine a spotlight on our exceptional volunteers! From medical staff to voluntary administration, BIFMC is able to provide a warm,...