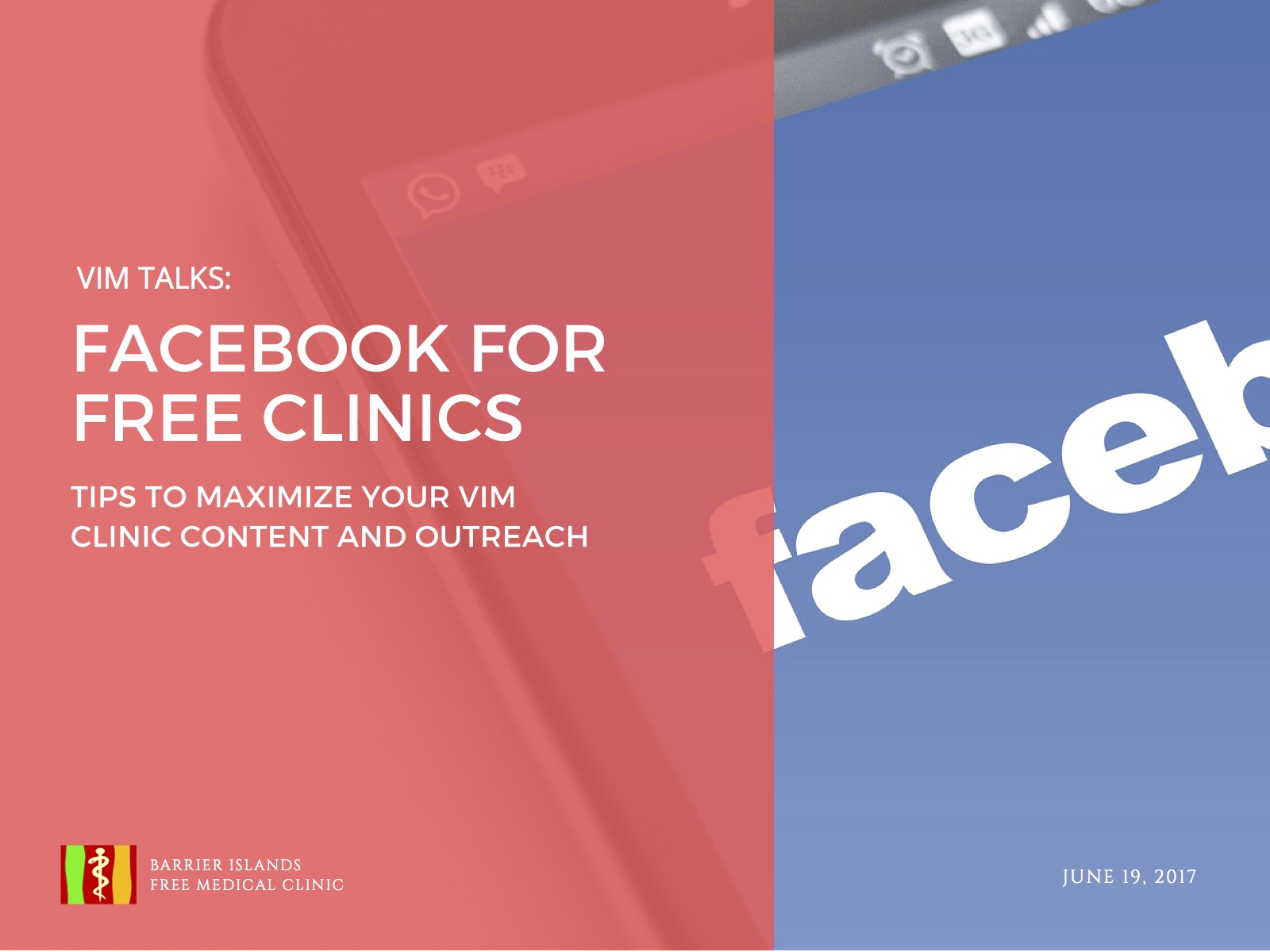 Barrier Islands Free Medical Clinic presented a free webinar hosted by the national Volunteers in Medicine headquarters on Monday, June 19th. The VIM Talk series, produced by Volunteers in Medicine Executive Director Sasha Bianchi, regularly features members within the national VIM Alliance who share their ideas and expertise in the field of free clinic management, fundraising, outreach and medicine. (Related Reading: For VIM Clinics, Finding a Voice Matters.)
Marketing and Communications Specialist, Carrie Moores, and BIFMC Director, Brenda Falls, presented the hour-long VIM Talk on "Facebook For Free Clinics: Tips to Maximize Your VIM Clinic's Content and Outreach," attended online by VIM alliance directors and staff from all over the country.
According to the Volunteers In Medicine website, "These sessions, hosted by the Volunteers in Medicine national office, provide an opportunity for members to exchange ideas and share their experiences on a variety of topics related to clinic operations." Previous VIM Talks have included topics such as "The Art of Fundraising," "Diabetes Management in VIM Clinics," and "Beyond the Medical Model: Innovating for Better Patient Care."
To view the VIM Talk hosted by Barrier Islands Free Medical Clinic, click here.
For additional resources for free clinics wishing to expand their social media efforts, visit BIFMC's #NonProfLunchBox tool kit page.
Barrier Islands Free Medical Clinic is a free clinic in Charleston, SC, that provides free medical care to eligible patients, just like any family practitioner or internist. The Free Clinic serves uninsured adults living at or below 200 % of the Federal poverty level who live or work on Johns, Wadmalaw or James Islands. You can follow us on Facebook, Twitter, Instagram and YouTube.
At Barrier Islands Free Medical Clinic, we like to shine a spotlight on our exceptional volunteers! From medical staff to voluntary administration, BIFMC is able to provide a warm,...