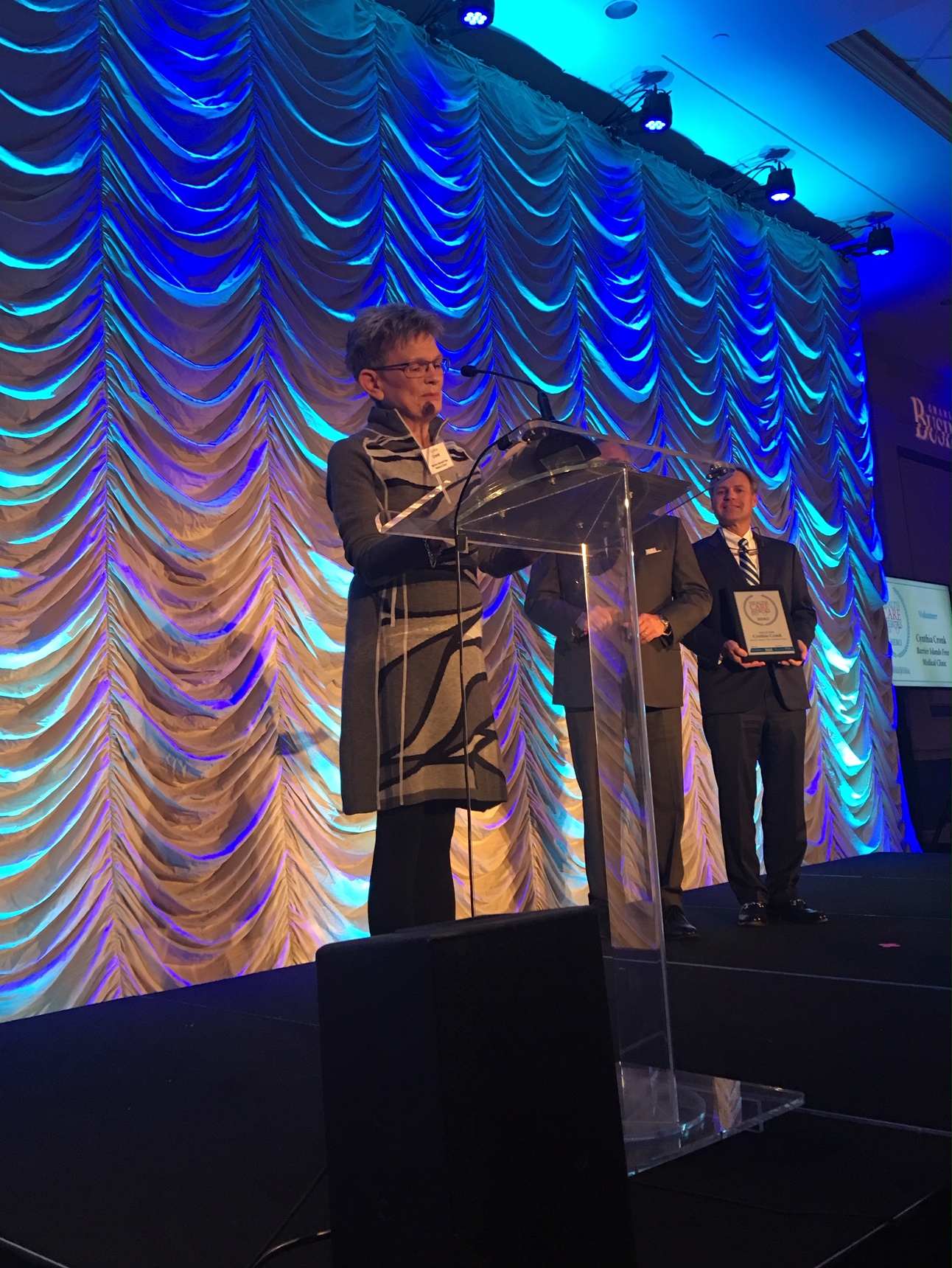 Barrier Islands Free Medical Clinic volunteer and ex officio board member, Cynthia Cronk, received the 2018 Health Care Hero award in the category of Volunteer on Wednesday night, November 28th, 2018, during a ceremony at the Francis Marion Hotel in downtown Charleston.
The award, presented by The Charleston Regional Business Journal each year, "honors the men, women, and service and therapy animals who serve as professionals and volunteers for health care, education, first responder and other areas. These individuals and organizations go beyond the call of duty for their communities and professions."
Accepting her award, Cronk noted during a touching speech, "The clinic is a special place; helping turn despair to hope for men and women without health care or the means to purchase it. Edith Wharton said this; 'There are two ways of spreading light; to be the candle, or the mirror that reflects it.' My association with Barrier Islands Free Medical Clinic has been one of the mirrors, and I am so grateful."
Previous recipients in this category over the years include Dr. Jim Hayes and Dr. Richard Ulmer of Barrier Islands Free Medical Clinic.
You Can Read Cronk's Nomination Letter Below.
BIFMC provides free, high quality and compassionate primary care to hundreds of uninsured patients who live or work on Johns, James, and Wadmalaw Islands.
Unfortunately, it is one of Charleston's best kept secrets.
One particular volunteer at the clinic, however, has been on a quiet mission to shine a light on the good work of over 138 volunteer physicians, nurses and administrative support staff – and importantly, to spread the word to those without access to health care that Charleston does care about them – and help is available.
Because what good is a free clinic if you don't know it exists?
While media and online advertising has been a boon to help promote what our free clinic offers, BIFMC Human Resources Volunteer, Cynthia Cronk, has embarked on a parallel mission: to spread the message, boots-on-the-ground, about our free clinic to those places where the internet may not always prevail. Driving to meet with local grassroots organizations, businesses, farmers markets and faith communities, Cronk is determined to let no stone go unturned when it comes to helping those in need find access to health care. For Cynthia, now in her fourth year volunteering at the clinic after retiring to Charleston from Santa Barbara, CA, she is certain that some good old fashioned word-of-mouth will ultimately help inform – and build trust – within the community.
Cronk is a rare combination in a volunteer; a retiree who is embarking on her second act in life with vigor and dedication after decades of advanced study and leadership in her professional life. For Cronk, the important work to be done can always be found behind the scenes, supporting and guiding others so that they may excel in their own given role – and she does so with humor, grace, and often, a hip moped bike and black leather jacket to get her around town.
Cronk's exceptionalism as a volunteer, it is worth noting, didn't exactly start out that way. Learning about the free clinic near her home on Johns Island, she applied and quickly accepted a volunteer role as front desk support – answering phones and filing – and began work with optimism and an open mind. As Cronk explains, "When I retired to Charleston, I actively sought volunteer work that was at least 'useful', no matter what the work. To me, volunteer work should be 'necessary work' – regardless of the level of the position." After weeks went by, however, Cronk didn't get the sense that she was particularly helpful in her role – or therefore entirely useful.
Office Manager Sue Garcia recalls Cynthia stating she was "awful at the front desk". She did, however, give it her best shot for about 6 months, before deciding she was not meant for the chaos of front desk responsibilities. "Cynthia just didn't play well in the sandbox," Garcia jokes. "It just wasn't a fulfilling fit for her at the time, so she left to seek other opportunities."
Indeed, for all of her commitment and altruism, Cronk was not initially a "natural fit" for her original position; as any nonprofit will find, however, there is a role for everyone – as long as you get creative. It would be another year before Cronk would find herself back at BIFMC, in a newly created position: Volunteer Human Resources Manager.
Under new leadership at the time, Clinic Director Brenda Falls was eager to optimize volunteers to enhance the structure and functionality of the clinic. "I was going through old files when I first started," shares Falls. "I came across Cynthia's resume and said, 'I think we need to look at this person again.'" With a Masters in speech therapy, a PhD in Education, and a career path spanning 20+ years as the Director of Human Resources at University of California, Santa Barbara, Cronk was well worth creating a new volunteer position for.
"I called her in and we met – and it was work love at first sight," recalls Falls, asking Cronk to rejoin the Clinic as a Human Resources volunteer. She agreed almost immediately, and the rest is history, as the Clinic has since undergone major changes and expansion – including the opening of a brand new, 7 exam room facility with the potential to double the patient capacity.
"I was not looking for HR work as a volunteer, but the opportunity presented itself, and I jumped," says Cronk, who got right to work on structuring and hiring for the clinic and its major operations, implementing evaluations, minimizing risks and creating efficiencies, developing policies and procedures, and spearheading strategic planning initiatives in preparation for expansion.
The change for the Clinic, Falls notes, turned from night into day. "Whether you are a small or large organization, there are certain functions that take place in running any operation," she explains. "The HR piece is a field in itself, and we didn't have anything like that here before Cynthia. Importantly, increasing our patient capacity was a main consideration of ours, and Cynthia took that initiative on immediately once we decided to expand the Clinic."
As Cynthia shared recently in a clinic 'Volunteer Spotlight' article, "Volunteers come from a wide background of life experiences. In my case, I had recently retired from an active and dynamic job that I loved, and retirement itself typically requires some adjustment. For me, BIFMC provided an opportunity to be useful; I am able to provide some benefit to the organization now, and in return I am part of something very special. Every person who comes to the clinic is treated with respect and is afforded medical treatment with full dignity."
As a result of her mission to spread the word one conversation at a time, the clinic has seen a steady rise in new patient applications – and a renewed commitment from the staff to raise awareness by forming personal relationships out in the community. Cynthia can frequently be found at town hall meetings, stopping by local businesses to chat with employers who cannot afford to offer insurance, and meeting with local pastors to shake hands and offer information that might help the financially insecure within the congregation.
"While we have been mindful to invest in social media and online promotion of our services, not everyone – particularly those from low income families – have an opportunity to learn about their options online," says BIFMC Outreach and Communications Specialist, Carrie Moores. "Cynthia is a powerhouse of her own, reaching out to existing organizations and communities that already offer support to the underserved, and who can vouch personally for who we are and what services we provide. The web is powerful – but so is human interaction, and Cynthia steps up to that commitment."
Cynthia's compassion and drive is only matched by her extraordinary wit; we at the clinic are particularly thankful to be in her exuberant presence and wry musings of life; and lest we forget her in her absence, she is certain to subject the clinic staff to humorous postcards while traveling, or to bring back gag trinkets just to remind you that she thought of you while out on the town, boots on the ground.
For these very reasons and more, we are thrilled to nominate Cynthia Cronk as an exceptional Volunteer in consideration of the 2018 Health Care Heroes awards.
We love you. Cynthia! Congratulations from all of us at BIFMC!
Barrier Islands Free Medical Clinic is a free clinic in Charleston, SC, that provides free medical care to eligible patients, just like any family practitioner or internist. The Free Clinic serves uninsured adults living at or below 200 % of the Federal poverty level who live or work on Johns, Wadmalaw or James Islands. You can follow us on Facebook, Twitter, Instagram and YouTube.
At Barrier Islands Free Medical Clinic, we like to shine a spotlight on our exceptional volunteers! From medical staff to voluntary administration, BIFMC is able to provide a warm,...