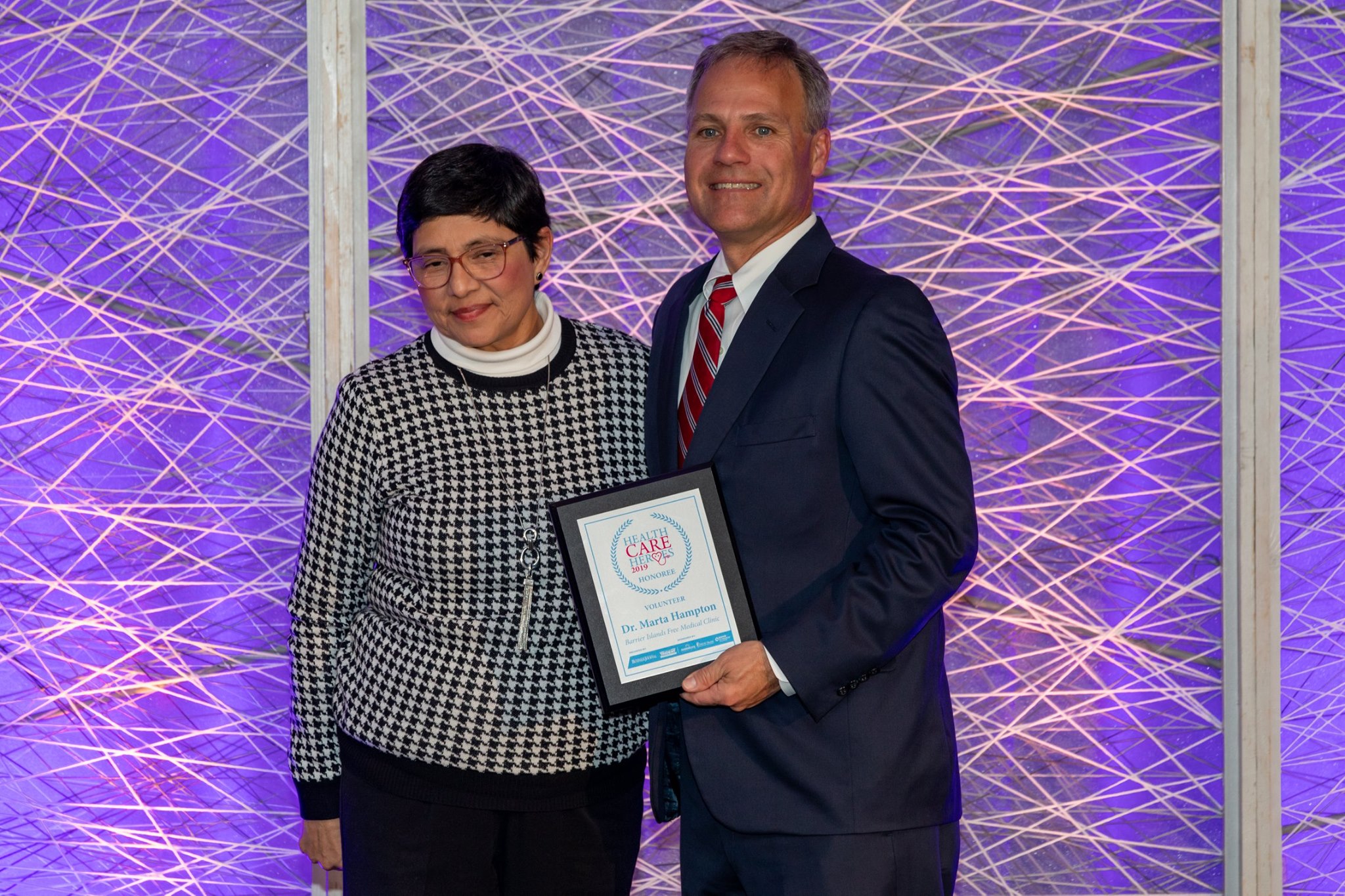 Barrier Islands Free Medical Clinic volunteer Physician, Dr. Marta Hampton, was recognized as a volunteer Health Care Hero by the Charleston Regional Business Journal on December 4th, 2019, at the Francis Marion Hotel.
The award, presented by The Charleston Regional Business Journal each year, "honors the men, women, and service and therapy animals who serve as professionals and volunteers for health care, education, first responder and other areas. These individuals and organizations go beyond the call of duty for their communities and professions."
Dr. Hampton has volunteered for the Clinic for over a decade, providing free medical care to uninsured adults who live or work across the Lowcountry.
You can read Dr. Hampton's nomination letter here:
When it comes to most volunteer organizations, there is often that one person who is known to be a quiet powerhouse; the one you often find working diligently behind the scenes, unbothered by receiving any recognition. For this particular type of person, there is no such thing as "charity." To her, the very act of helping others is as basic as breathing – a byproduct of living in a community where some have less, but are all deserving. Dr. Marta Hampton, a volunteer physician at Barrier Islands Free Medical Clinic, is one such powerhouse: while humility and quiet dedication are her natural traits, sometimes it is necessary to shine a light on the silent cogs that truly move the machine. On behalf of the many of us who work daily with Dr. Marta Hampton at Barrier Islands Free Medical Clinic, we consider her a true Health Care Hero, as she embodies all that the Clinic stands for: a ceaseless and outstanding commitment to the underserved of the Barrier Islands and beyond.
Dr. Marta Hampton is exceptional not just for her humble character and steadfast compassion, but for her excellence in the field of medicine. A Dermatologist trained at the Medical University of South Carolina, Dr. Hampton has held a practice in the Charleston region for three decades, serving on the National level as an Associate for the American Society of Dermatology and a Fellow for the Women's Dermatologic Society; and locally for the Charleston County, South Carolina Medical, & Dermatology Societies. In addition to her practice, she has simultaneously volunteered at BIFMC since 2009, closing up her own clinic twice a month in order to treat up to a dozen uninsured patients per day – in addition to her frequent medical missions to Guatemala.
Born in Managua, Nicaragua, Dr. Hampton was raised predominantly in New York City, but eventually returned to Central America to travel for two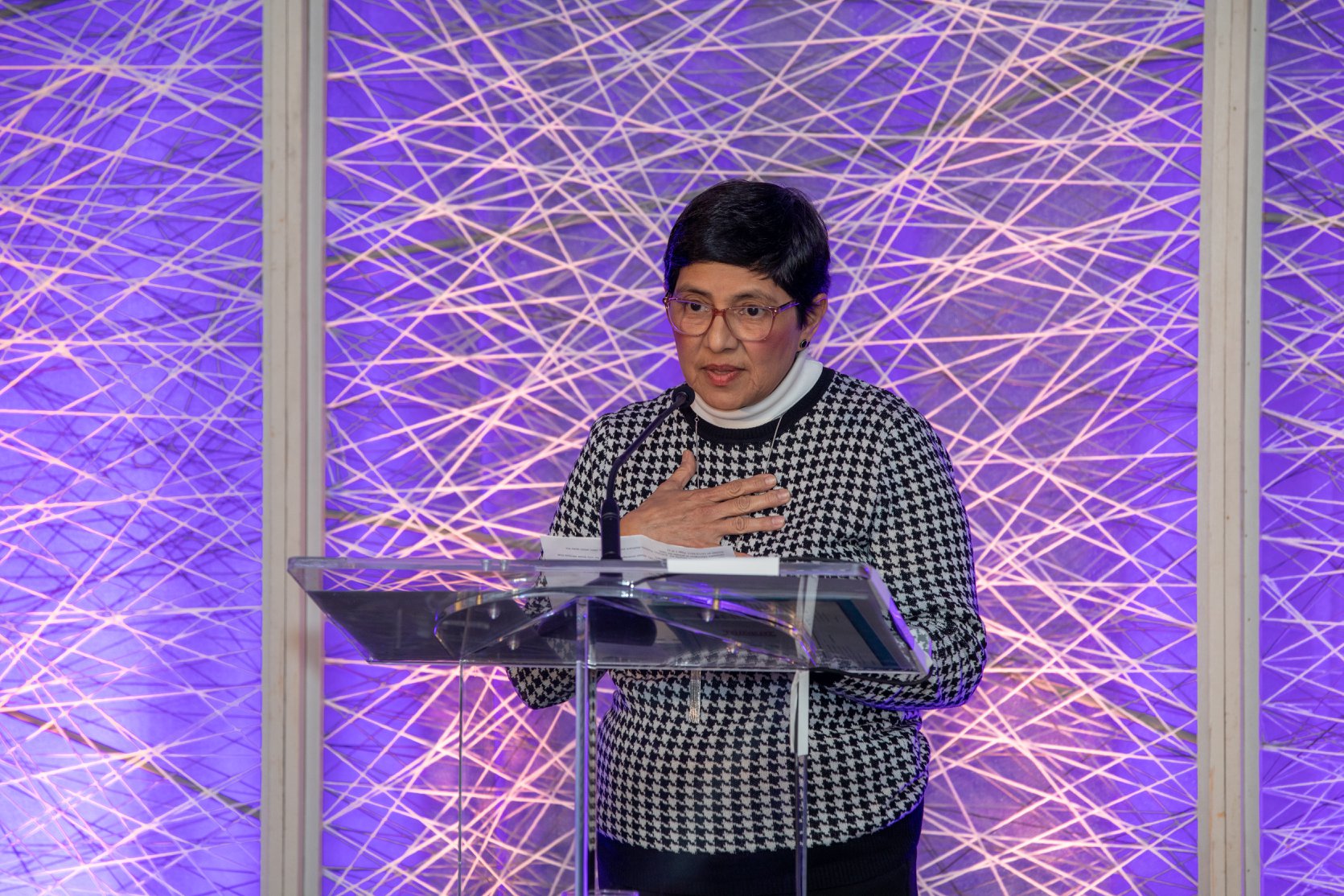 years following high school, attending Universidad Autonoma de Guadalajara. She went on to attain her B.S. degree and subsequent M.D. at The University of Florida, and remains a Gators fan to this day, (though we respectfully submit that this not be held against her in the state of South Carolina.) Throughout all of her training and accomplishments, her desire to lift those around her has been a driving force in her personhood and career. When asked recently why she embarked on her medical career, Dr. Hampton replied simply, "I became a doctor to help those who are sick, so that they may smile again and move on with their lives."
Clinic Operation Manager, Sue Garcia, perhaps sums up Dr. Hampton best: "She is one of the most humble, thoughtful, caring, generous and sincere people I have ever met." In fact, everyone asked to reflect on Dr. Hampton's service in the community and presence at the free clinic has echoed a near constant sentiment, citing her "humility," "reliability," and "dedication" to helping others as an affirmation of her character. When questioned about what she loves most when volunteering at the clinic, Dr. Hampton reflected, "I come here because I can practice medicine the way it should be practiced; and I love the people, volunteers and staff who are here each day." The feeling is mutual among volunteers and patients alike; particularly for the hundreds of Spanish speaking patients who seek treatment at our clinic and can find it difficult to communicate their health problems with limited English skills. A native Spanish speaker, Dr. Hampton easily translates her care and education to each patient she sees, and enjoys being able to take the time needed at every patient visit.
Clinic Director Brenda Falls comments, "The Clinic is very blessed to have a volunteer like Dr. Hampton. While running a very busy private dermatology practice, she makes the time to see our patients two Fridays of every month. If that is not enough, Dr. Hampton faithfully serves as a long standing member of the Board of Directors and uses her "vacation" time for volunteer mission trips to different parts of the world."
Indeed, what others might consider to be "down time" from their professional life, Dr. Hampton considers as extra time to serve those in greater need. Medical Director, Dr. Richard Ulmer, concurs: "Dr Hampton gives her time freely. Not only does she close her office to come to the clinic regularly, she is available during the regular workday for consultation frequently using her cellphone for telemedicine consult, and she follows-up on all of her patients. She rarely talks about her frequent medical mission trips other than to tell about the things that she has seen, and the great need that exists. We are grateful for her work with us." Dr. Ulmer also notes that as the Clinic has recently undergone expansion, Dr. Hampton has been one of the driving forces behind a new medical initiative at the clinic that would enable BIFMC to perform minimally invasive surgical procedures for patients requiring cyst removals and biopsies, and a procedure room to facilitate operations. Her love of service is not limited to that which she can perform in her own time, but expands to include ways in which she can elevate the clinic as a whole, so that each patient may benefit from the skills of everyone around her.
If Dr. Hampton had not endeavored to be a physician, she once remarked that she would have lived her life in service as a mother. Fortunate for all of us and her three children, she has accomplished both, helping those in her community all the while raising her daughter Sara (a medical school graduate of MUSC); her son Ben (a graduate of Rice University in Computer Science); and son Joe (an Engineer who attended the US Naval Academy). It is clear that Dr. Hampton's devotion and commitment to all she comes into contact with, both professionally and personally, have deeply enriched the community in more ways than one.
When asked to name one of the greatest highlights of her career, Dr. Hampton didn't hesitate to respond. "I have never missed a day of work." For this reason alone – and while there are many more to choose from – we at Barrier Islands Free Medical Clinic submit that Dr. Marta Hampton is a true Health Care Hero; because despite all of her good work in the community, simply showing up for it has been all the reward she has ever needed.
From all of us at Barrier Islands Free Medical Clinic, we congratulation Dr. Hampton for her unyielding compassion and outstanding commitment to our patients and the Charleston community at large.
Barrier Islands Free Medical Clinic is a free clinic in Charleston, SC, that provides free medical care to eligible patients, just like any family practitioner or internist. The Free Clinic serves uninsured adults living at or below 299 % of the Federal poverty level who live or work on Johns, James, & Wadmalaw Island or Folly Beach, or serve the Hospitality Industry of Downtown Charleston. You can follow us on Facebook, Twitter, Instagram and YouTube.
At Barrier Islands Free Medical Clinic, we like to shine a spotlight on our exceptional volunteers! From medical staff to voluntary administration, BIFMC is able to provide a warm,...