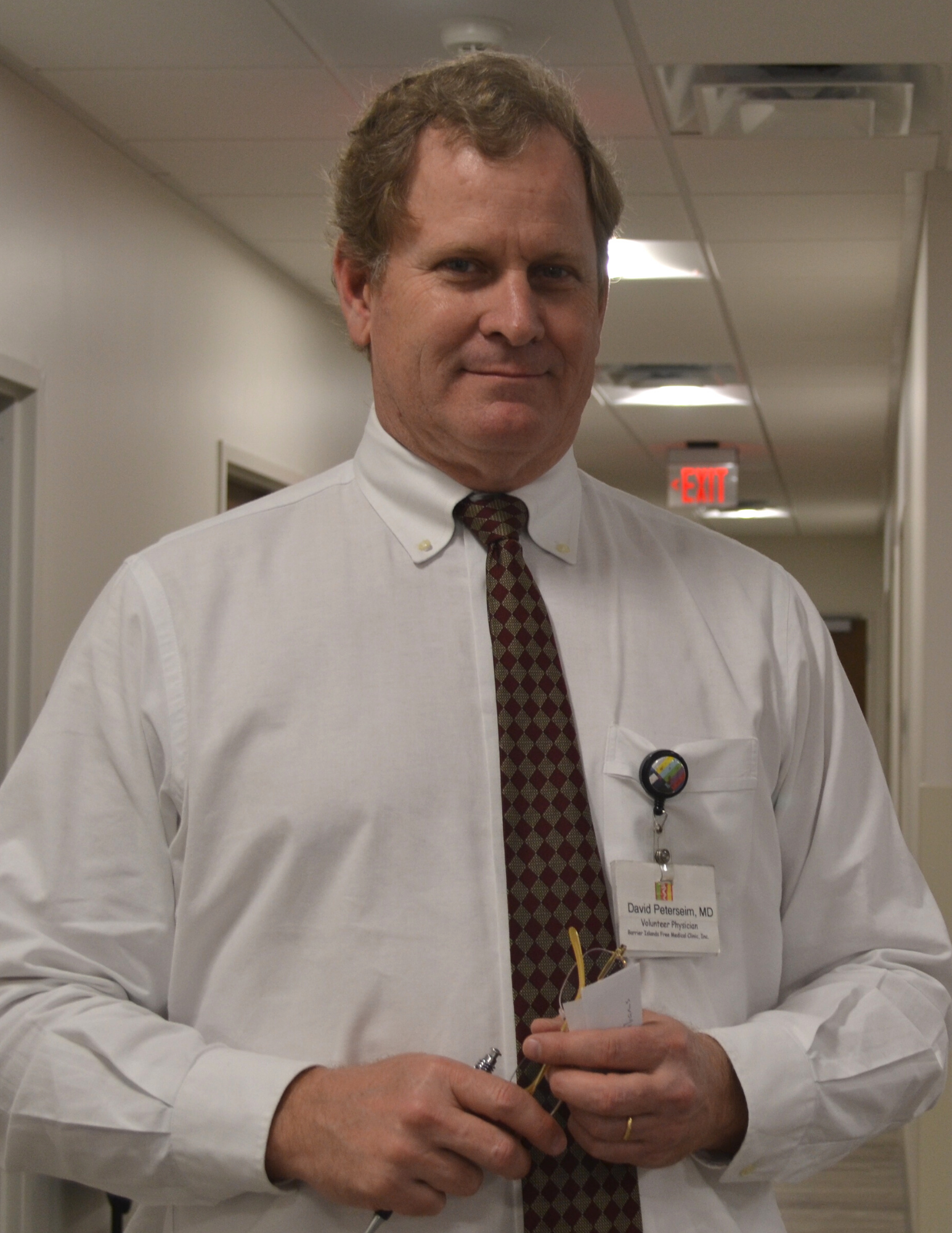 Johns Island, SC, September 1, 2021 – On behalf of the Board of Directors', Barrier Islands Free Medical Clinic (BIFMC) is pleased to announce the appointment of Dave Peterseim, MD, as Clinic Medical Director, effective September 1, 2021.
Dr. Peterseim has served as Cardiac and Thoracic Surgeon for Roper St Francis Healthcare from 1998-2013 before joining Barrier Islands Free Medical Clinic as a volunteer medical practitioner in 2014. Having received his medical degree from Washington University School of Medicine, Dr. Peterseim completed his residency in General Surgery and Cardiothoracic Surgery Fellowship at Duke University Medical Center. During his tenure at BIFMC, Dr. Peterseim has managed roles including Coordinator for Minor Surgery and the Doxy.me Virtual Medicine Physician Coordinator, in addition to heading the Clinic's Strategy Initiative Committee.
Dr. Peterseim replaces Richard Ulmer, MD, who served in this capacity since 2013. David Dunlap, former CEO of Roper St. Francis Healthcare and current Board Chair of BIFMC, as well as members of the Board, expressed their gratitude to Dr. Ulmer for his time, dedication and leadership at the Clinic. Dr. Ulmer has been instrumental in improving quality initiatives and ensuring staff members and clinicians place quality and patient service at the forefront, as well as his exceptional leadership navigating the clinic through the 2020 COVID-19 shutdown and ensuing telemedicine initiative.
Having worked closely with Dr. Ulmer in the current transition, in his role as the Medical Director, Dr. Peterseim will carry on the activities of his predecessor and provide medical leadership assisting the medical staff in the delivery of patient care, continuing medical education, and for the advancement of clinical equity for the underserved.
About Barrier Islands Free Medical Clinic
Barrier Islands Free Medical Clinic is large, 7-exam room free medical clinic located on Johns Island, SC, serving uninsured adults who live or work on Johns, James, and Wadmalaw Islands; Folly Beach; or who serve downtown Charleston's hospitality industry. Through the volunteer efforts of over 140 medical and administrative staff, the clinic has served over 50,000 free medical visits since 2008, treating over 5,000 adults across the Lowcountry.
Our mission is to understand and serve the health and wellness needs of the uninsured, low income adults who live or work across the Barrier Islands or serve downtown Charleston's Hospitality Industry. 
Barrier Islands Free Medical Clinic is a free clinic in Charleston, SC, that provides free medical care to eligible patients, just like any family practitioner or internist. The Free Clinic serves uninsured adults living at or below 299 % of the Federal poverty level who live or work on Johns, James, & Wadmalaw Island or Folly Beach, or serve the Hospitality Industry of Downtown Charleston. You can sign up for our monthly e-news updates, or follow us on Facebook, Twitter, Instagram and YouTube.
At Barrier Islands Free Medical Clinic, we like to shine a spotlight on our exceptional volunteers! From medical staff to voluntary administration, BIFMC is able to provide a warm,...