Each month, BIFMC shines a spotlight on one of our many exceptional clinic volunteers. From medical staff to voluntary file clerks, Barrier Islands Free Medical Clinic is able to provide a warm, caring and expert primary medical home to hundreds of uninsured patients. The residents and workers of our Lowcountry community are cared for and kept healthy due to the commitment of our volunteers.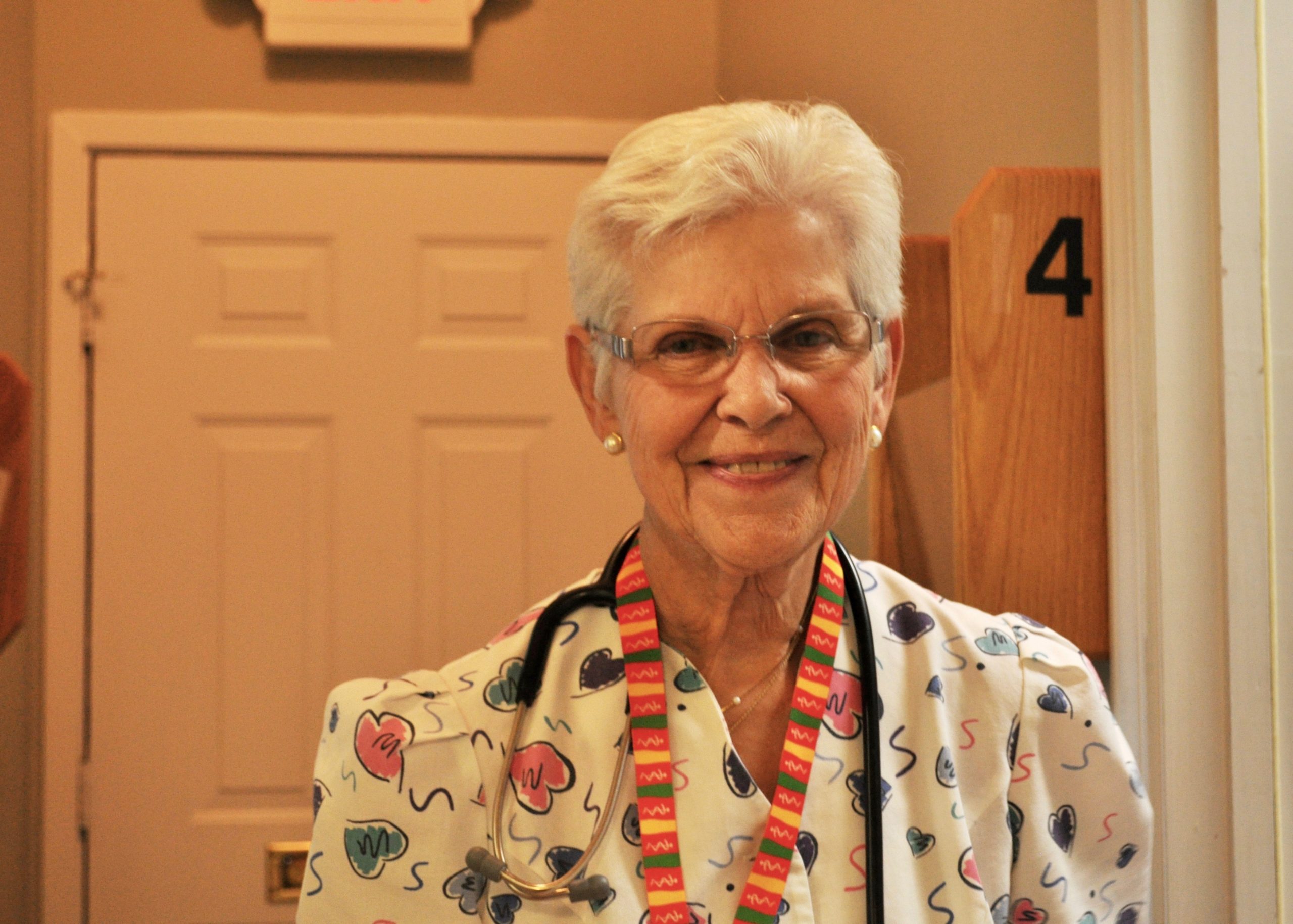 This month, we celebrate Carole McCrary!
Name: Carole McCrary
Town of Residence: James Island
Type of Specialist/Position: RN
How many years served at the Clinic: 9 (since the doors opened!)
How did you learn about BIFMC? Were you actively looking for volunteer opportunities at the time? After taking care of my Dad for 4 years – at which time I volunteered at a Respite Care – I was looking for something different after he died in 2007. A contact from Respite Care gave me information about the Clinic, so I talked with the Doctor in charge before the Clinic opened. I was there on the Friday in April, 2008, when we saw our first patient. (We were very unorganized at first!)
What is it about BIFMC's mission that appeals to you personally? Whatever your faith or background, the Clinic serves all without bias or prejudice.
How has volunteer work had an impact on your life? I have been most moved and humbled by the two Doctors (Drs. Charlie Davis & Arthur Booth) whose vision made the Clinic a reality. I feel very fortunate to have had the opportunity to be a small part in the care given to those in need.
What would you say is the biggest misconception about the uninsured? Most people do not realize that we serve not only the poor but those who are unable to afford insurance. Sometimes those people are embarrassed to have to come to the Clinic. Our patients are very appreciative of the care they receive.
What advice would you give to those considering volunteering their time or donating a gift to the clinic? I heard once that when you volunteer, you end up with the jobs that no one else wants to do. I have not ever found that to be true-  I look forward to my day at the Clinic!
Thank you, Carole, for being a steadfast pioneer of the Clinic since we opened our doors! Our patients – and our team- are lucky to have you as a part of our volunteer family!
If you know and would like to nominate a current BIFMC volunteer, please email us; To thank a volunteer, please share this spotlight via social media!
If you would like to learn more about how you can volunteer for Barrier Islands Free Medical Clinic, click here. If you would like to make a donation in honor of our one (or all!) of our volunteers, Donate Here.
Barrier Islands Free Medical Clinic provides medical care to eligible patients, just like any family practitioner or internist – but it is free. We serve uninsured adults living at or below 200 % of the Federal poverty level who live or work on Johns, Wadmalaw or James Islands. You can follow us on Facebook, Twitter, Instagram and YouTube.
At Barrier Islands Free Medical Clinic, we like to shine a spotlight on our exceptional volunteers! From medical staff to voluntary administration, BIFMC is able to provide a warm,...