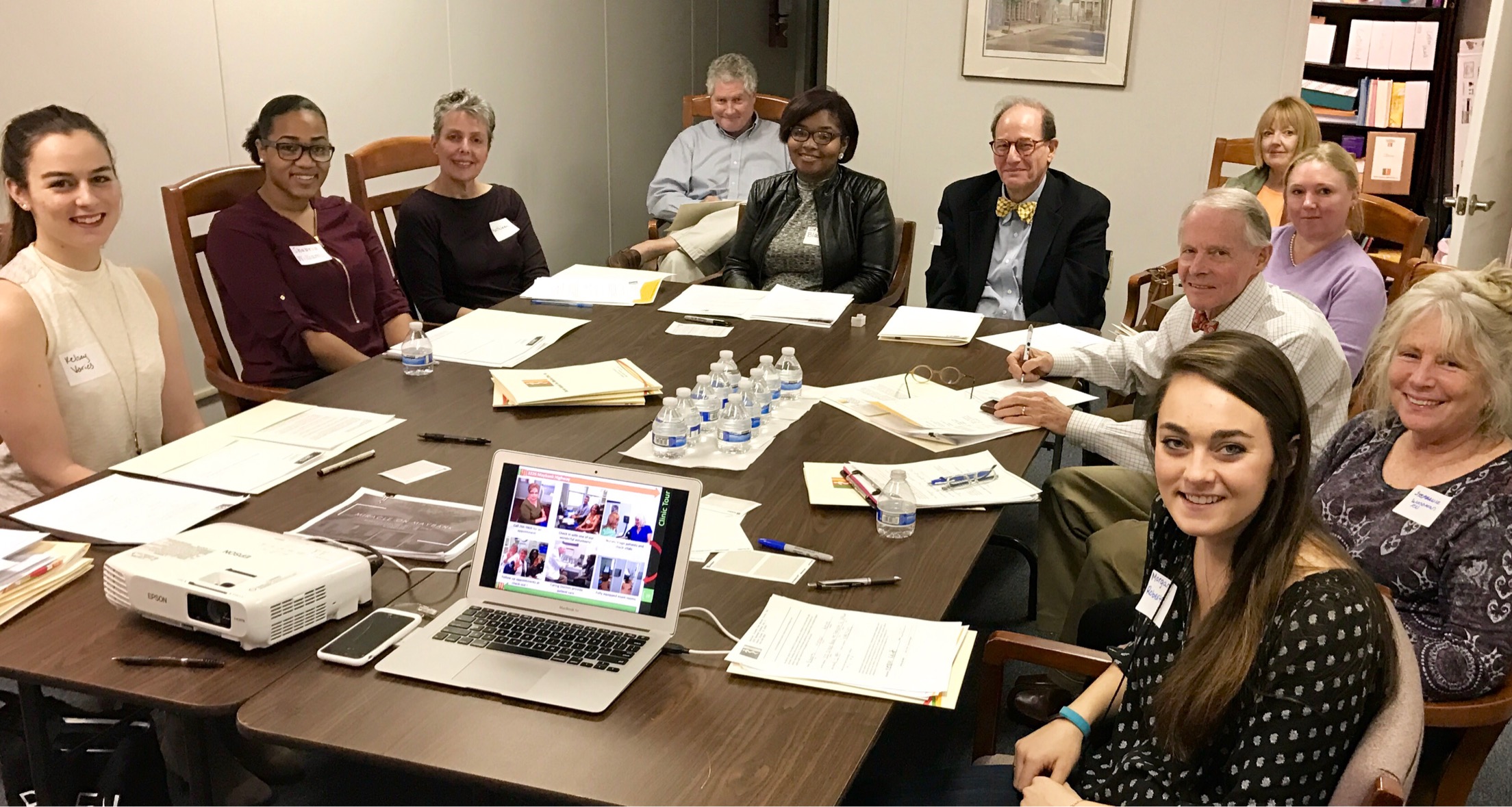 The New Year kicked off with growth and optimism for Barrier Islands Free Medical Clinic, as January 12 saw the orientation of 11 new volunteer members, ranging from administrative roles to interpreters, nurses and physicians.
Several of the new volunteers were local undergraduates, interested in gaining clinical experience prior to pursuing careers in medicine. College of Charleston student Morgan Roberts, who will begin volunteering at BIFMC as an administrative assistant, shared, "I wanted volunteer experience in the medical field, and I'm also excited to get started and provide help to those who need it."
Increased interest in volunteering at BIFMC follows on the heels of the Clinic's new website, allowing anyone to submit a volunteer application online. Over 20 new volunteers have reached out since the application and volunteer resources were added to the site in October – a significant jump in applications during any previous 3 month period.
Stephanie Woodman, RN volunteer, is among those who became eager to apply after learning more about the Clinic on the new website. "After reading more online, I was inspired that BIFMC was doing such good work with patients who have no medical insurance – in a compassionate and respectful manner. It's my pleasure to help serve members in the local community."
Clinic Director, Brenda Falls, is enthused by the uptick in volunteer interest, noting that the upgrade in BIFMC online capabilities now better positions the Clinic to follow up with and train interested persons. "We are seeing ​a direct correlation ​between the increase in volunteers and the implementation of our new website and recent exposure on social media," Falls comments. "Our online application process and the streamlining of our volunteer recruitment process also allows us to respond quickly to those who reach out."
Once a volunteer application has been approved, new staff are lead through an afternoon orientation where they can see first hand how the Clinic operates. Cynthia Cronk, also a volunteer who manages Human Resources for the Clinic, leads the orientation group. Following a presentation and tour, Cronk is also able to offer her own experiences as part of the introduction process.
"When I retired and moved to Charleston, I looked actively for volunteer work that was at least useful," Cronk reflects, noting that she had previously volunteered in an ER in Santa Barbara prior to her work at BIFMC. "For me, it's not the level of the work that is important, but the need for the work to be done – by someone. Volunteer work should be necessary work," she remarks. For Cronk, BIFMC stood out for its critical role in the community, but also its ability to welcome collaboration between staff members in a dynamic, thoughtful way. "When I tried other volunteer opportunities in Charleston, mostly what I did was sit around waiting for someone to tell me what to do," she notes. "In other words, the volunteer role in these nameless organizations had not been well thought through. Volunteers should be an asset; but it doesn't happen without planning and imagination."
New volunteers are often surprised to learn that they are in fact instrumental to the Clinic's success, as BIFMC is almost exclusively run by volunteer efforts and in-kind donations made from the community. It is the role of the volunteer at BIFMC that directly assists patients on Johns, James, and Wadmalaw Islands who do not have access to health insurance.
"A steady flow of new talents allows us to to keep our promise to our patients- to remain as their 'Primary Medical Home' for years to come," Falls comments, noting that their is always a common thread uniting those who end up volunteering at BIFMC. "Within all of our volunteers, there are universal qualities​: demonstrated compassion for others, and the desire ​to make our community a better place.​"
And, as Cronk is sure to let new volunteers know during their initial introduction to the Clinic, doing the "necessary work" at BIFMC isn't the only reward for volunteering their time and talents each week. "It doesn't kill anyone to have a really good time while they're at it!"
If you are interested in becoming a volunteer for Barrier Islands Free Medical Clinic, click here. You may also read the stories of several of our current volunteers here.
If you would like to make a contribution to BIFMC to help us deliver quality care to our uninsured patients, click here.
Barrier Islands Free Medical Clinic provides medical care to eligible patients, just like any family practitioner or internist – but it is free. We serve uninsured adults living at or below 200 % of the Federal poverty level who live or work on Johns, Wadmalaw or James Islands. You can follow us on Facebook, Twitter, and Instagram and YouTube.
A Day to Look Good - and Feel Even Better. BIFMC'S Annual Fashion for a Cause and Sip n Shop will take place from 11am...