Barrier Islands Free Medical Clinic is pleased to announce that it has expanded their income eligibility – and is now able to accept even more adults who cannot afford health insurance. The free clinic has increased the income eligibility threshold from 200% of the Federal Poverty Level (FPL) to 299% as of July 1, 2019 – allowing for a wider margin of annual household earnings in order to qualify for free health care.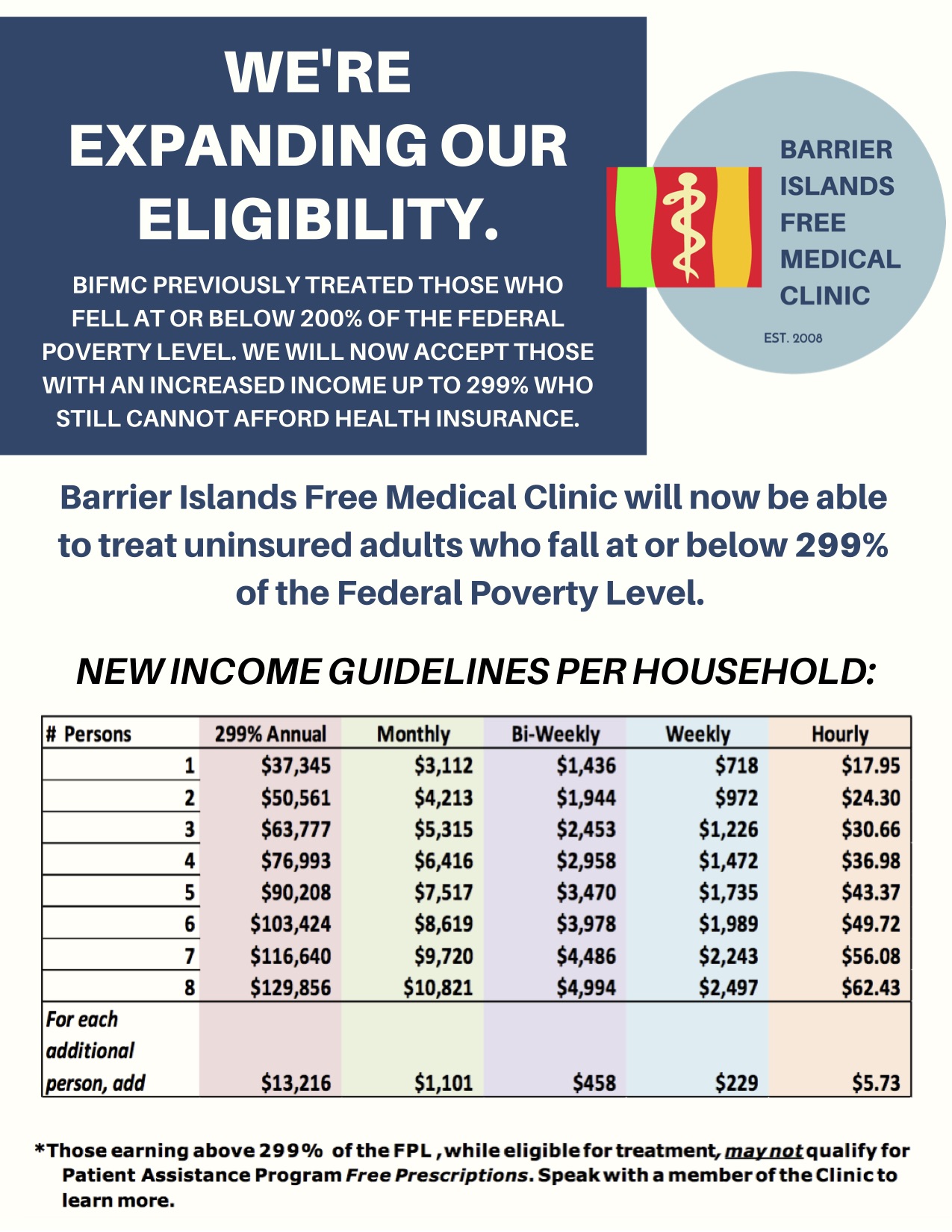 What does this look like? If you or someone you know is a single person who earns up to $3,112 a month or less (or $37,345 a year), you may now be eligible for free health care at BIFMC, and low or no cost prescriptions (prescription cost may depend on individual income). If you have more people in your household, check here for your income eligibility guidelines. Eligible adults must also live (or even simply work) on Johns Island, James Island, Wadmalaw Island or Folly Beach.
Call the Clinic at 843-226-9800 to learn more or enroll as a patient, or take this quick eligibility quiz to see if you qualify today.
Do you know someone without health insurance who might be eligible? Please send them this information- it just might save a life.
To apply, Download and Complete Our Patient Application here.
Barrier Islands Free Medical Clinic is a free clinic in Charleston, SC, that provides free medical care to eligible patients, just like any family practitioner or internist. The Free Clinic serves uninsured adults living at or below 299 % of the Federal poverty level who live or work on Johns, James, & Wadmalaw Island or Folly Beach. You can follow us on Facebook, Twitter, Instagram and YouTube.
At Barrier Islands Free Medical Clinic, we like to shine a spotlight on our exceptional volunteers! From medical staff to voluntary administration, BIFMC is able to provide a warm,...