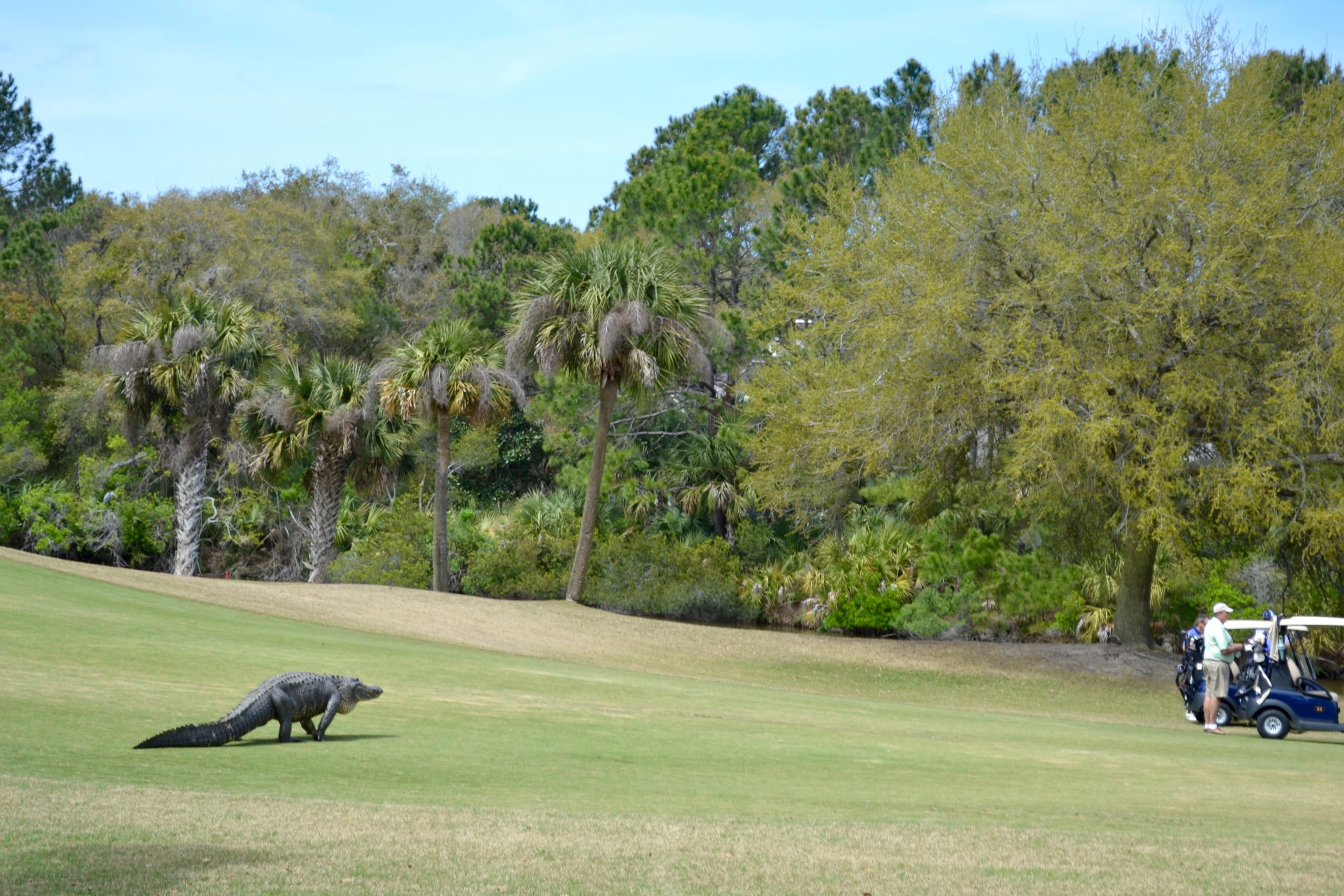 Barrier Islands Free Medical Clinic hosted its 10th Annual Celebrity Golf Invitational at The River Course at Kiawah Island Golf Club on Monday, March 27th, 2017. Each spring, the charitable sporting fundraiser raises significant proceeds to support the Clinic's mission of delivering high quality, free patient care to uninsured community members who live or work on Johns, James, and Wadmalaw Islands.
While the Clinic did their best this year to attract the celebrity guest attention of Charleston resident and notable actor Bill Murray, the Clinic was delighted nonetheless to receive the equally flattering attention of a venerable rising star- a prehistoric looking 400 lb alligator, who crept upon unsuspecting BIFMC tournament golfers reviewing their scores near a lagoon.
In an exciting image that has since gone viral, the nearly 8 ft alligator can be seen encroaching upon the foursome with the bravado of a tiger – or perhaps, Tiger Woods.
After being alerted by the photographer, the players were able to dodge the gate crasher and speed off to safety in their golf carts.
At the end of a momentous day, the Clinic was thrilled to have raised enough from the charitable golfing event to cover over 3,800 free patient visits for the year.
Golf Invitational Chair, Dr. Scott Parker, commented, "The weather was 'chamber of commerce' excellent, the venue was superb, and the golfers enjoyed a well paced round to support a most worthy cause of helping those in need to receive free medical care. Through the generosity of our donors, patrons and golfers, we raised enough money to support 90% of the years' patient volume to the clinic in 2017."
Added Parker, "Even an alligator showdown couldn't stop us!"
The Clinic playful named the gator after late Clinic co-founder, Dr. Arthur S. Booth.
If you would like to make a donation to help cover the cost of free patient visits in honor of internationally famed Arthur B. Alligator, please click here to designate a tribute to him with your gift.
Find the local write up via The Post & Courier here.
You can find also pictures from the full day of events here.
Barrier Islands Free Medical Clinic provides medical care to eligible patients, just like any family practitioner or internist – but it is free. We serve uninsured adults living at or below 200 % of the Federal poverty level who live or work on Johns, Wadmalaw or James Islands. You can follow us on Facebook, Twitter, Instagram and YouTube.
At Barrier Islands Free Medical Clinic, we like to shine a spotlight on our exceptional volunteers! From medical staff to voluntary administration, BIFMC is able to provide a warm,...