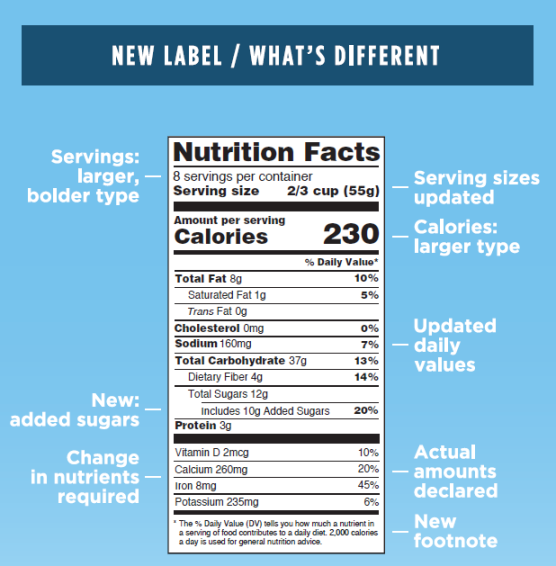 You may have noticed new food labels starting to appear on many food items. These labels can help provide the keys to guide you as you choose foods for a healthy meal plan.
So what's changing?
Calories and Fat 
The type of fat you eat matters more than the overall amount of fat. The new labels will show the percent of calories from the unhealthy saturated and trans fats. Choose foods lowest in these types of fat. Larger, darker letters will make calories the easiest item to see on the label.
Added Sugars
The label will show the total percent of calories from sugar. It will also show the percent of calories from ADDED sugar. Naturally occurring sugars, such as those in fruit and milk, are not added sugars.  Less than 10 percent of your total daily calories should be from added sugars. If you are aiming for 1500 calories a day, aim for less than 150 calories from added sugar. Most of the added sugars  people eat are from sugar-sweetened beverages and snacks, including sweets and desserts. Try to eat and drink less of foods with added sugar.
Serving Size
Pay attention to serving size. It will tell you how many calories you are eating from one serving. Some packages that contain more than one serving will give the nutrition information for one serving and the whole package. Be sure you look at the nutrition information for the size you are actually eating
Other Changes
Vitamin D and potassium values are now included. The daily limit for sodium will decrease slightly to 2300 mg per day as recommended by the US Dietary Guidelines for Americans.  In most people's diets, most of the salt comes from processed and restaurant foods. Read the labels and choose products with less sodium.
Read the Nutrition Facts labels on your packaged food and drinks to keep track of calories, sugars, sodium, protein, fiber and other nutrients. It can help you and your family follow a healthy meal plan!
Joanne M. Gallivan, M.S., R.D.N. is a registered Dietitian Nutritionist. She served as the Director of the National Diabetes Education Program (NDEP) in the Office of Communication and Public Liaison for the National Institute of Diabetes and Digestive and Kidney Diseases (NIDDK) of the National Institutes of Health (NIH) from 1997-2016.  Previously, Ms. Gallivan has served as project manager for NIDDK's Weight-Control Information Network (WIN), a national source of information on weight control, obesity, and weight-related nutritional disorders for health professionals and the public; as Contract Manager for the National Heart, Lung, and Blood Institute's National Cholesterol Education Program and Obesity Education Initiative, and as Director of the Prince George's County Health Department Nutrition Division located in Maryland.
Barrier Islands Free Medical Clinic is a free clinic in Charleston, SC, that provides free medical care to eligible patients, just like any family practitioner or internist. The Free Clinic serves uninsured adults living at or below 299 % of the Federal poverty level who live or work on Johns, James, & Wadmalaw Island or Folly Beach, or serve the Hospitality Industry of Downtown Charleston. You can follow us on Facebook, Twitter, Instagram and YouTube.
Sometimes it's easier to slip in a little self motivation during your morning commute (and often critical to prepare during that long road trip to...