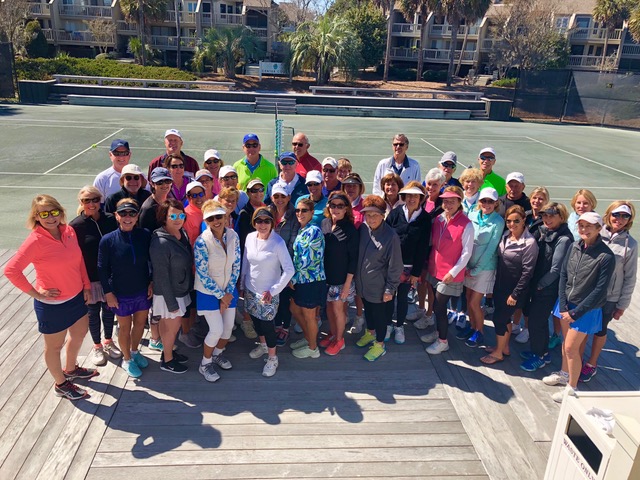 Seabrook Island Tennis Players took to the courts on Thursday, March 7, 2019 to raise over $4500 to benefit Barrier Islands Free Medical Clinic. The annual men & women's tennis social event supports the Breast and Prostrate Health Initiative at the medical clinic, providing free mammograms and screenings for prostate cancer and clinical visits for those in need. Following a beautiful afternoon of tennis, players enjoyed appetizers, beverages and a raffle on the porch overlooking center court.
BIFMC Medical Director, Brenda Falls, shared updates on the clinic's services provided to uninsured adults living and/or working on Johns, James and Wadmalaw Islands. Ms. Falls urged tennis players to promote the clinic's no-cost offerings with workers who may qualify for services at the non-profit medical facility.
The Seabrook Island Tennis Community serves the BIFMC with "Gifts of Love" annually with their generous patronage benefitting our island neighbors in need. BIFMC is thankful for this partnership!
Contributed by Lori Leary for Tidelines.
Barrier Islands Free Medical Clinic is a free clinic in Charleston, SC, that provides free medical care to eligible patients, just like any family practitioner or internist. The Free Clinic serves uninsured adults living at or below 200 % of the Federal poverty level who live or work on Johns, Wadmalaw or James Islands. You can follow us on Facebook, Twitter, Instagram and YouTube.
At Barrier Islands Free Medical Clinic, we like to shine a spotlight on our exceptional volunteers! From medical staff to voluntary administration, BIFMC is able to provide a warm,...