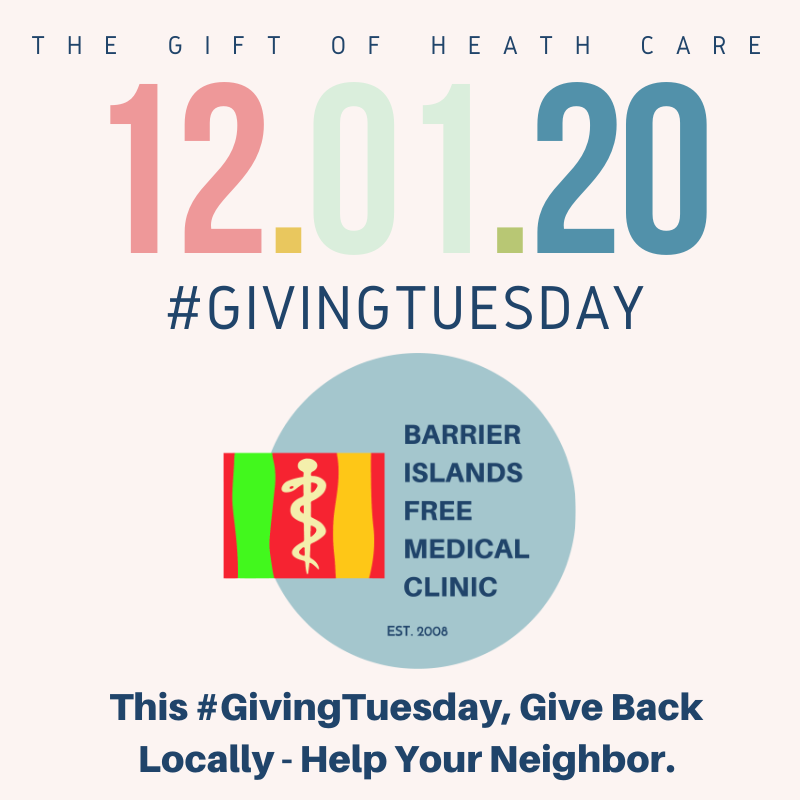 This #GivingTuesday (Tuesday, December 1st) we hope you will join us by donating to our free clinic here, sharing our FB fundraiser with your friends and family, or hosting your own Facebook fundraiser to support Barrier Islands Free Medical Clinic! 
We treat uninsured adults who live and work on Johns, James and Wadmalaw islands, Folly Beach, or work in the hospitality industry of downtown Charleston, providing on-going, high quality heath care from our volunteer physicians. For every $1 raised, our free clinic is able to provide $8 in care – with 86 cents of every dollar going directly to patient care. [Not on Facebook? You can donate online here!]
To start your own fundraiser via Facebook on your mobile phone, simply open your Facebook app and click "what's on your mind" in the box where you would create a post; then scroll down the list of options that appear below to select "Support Nonprofit." Type in "Barrier Islands Free Medical Clinic" to designate us as your fundraiser recipient. You can learn more about creating a fundraiser on Facebook here. You can also just share ours by clicking here!
On #GivingTuesday, Facebook's donation platform, 'Network For Good,' will waive any service fees, so all proceeds will go to our clinic directly.
Give back locally, help your neighbor – there is no greater gift than health care.

HOW TO START A FUNDRAISER ON FACEBOOK (desktop):
1,Click Fundraisers in the left menu of your News Feed.
2.Click Raise Money.
3.Select Nonprofit/Charity: BARRIER ISLANDS FREE MEDICAL CLINIC
4.Click Create.
5.Invite your friends! You can also simple share ours today!
Barrier Islands Free Medical Clinic is a free clinic in Charleston, SC, that provides free medical care to eligible patients, just like any family practitioner or internist. The Free Clinic serves uninsured adults living at or below 299 % of the Federal poverty level who live or work on Johns, Wadmalaw or James Islands, Folly Beach, and serve the hospitality industry of downtown Charleston. You can follow us on Facebook, Twitter, Instagram and YouTube.
At Barrier Islands Free Medical Clinic, we like to shine a spotlight on our exceptional volunteers! From medical staff to voluntary administration, BIFMC is able to provide a warm,...