Our clinic is able to operate and serve hundreds of uninsured patients who live or work on Johns, James and Wadmalaw Island – thanks to the good will and contribution of our donors. Each month, BIFMC will pay tribute to one of our many generous supporters who seek to improve the overall health and goodwill of the community.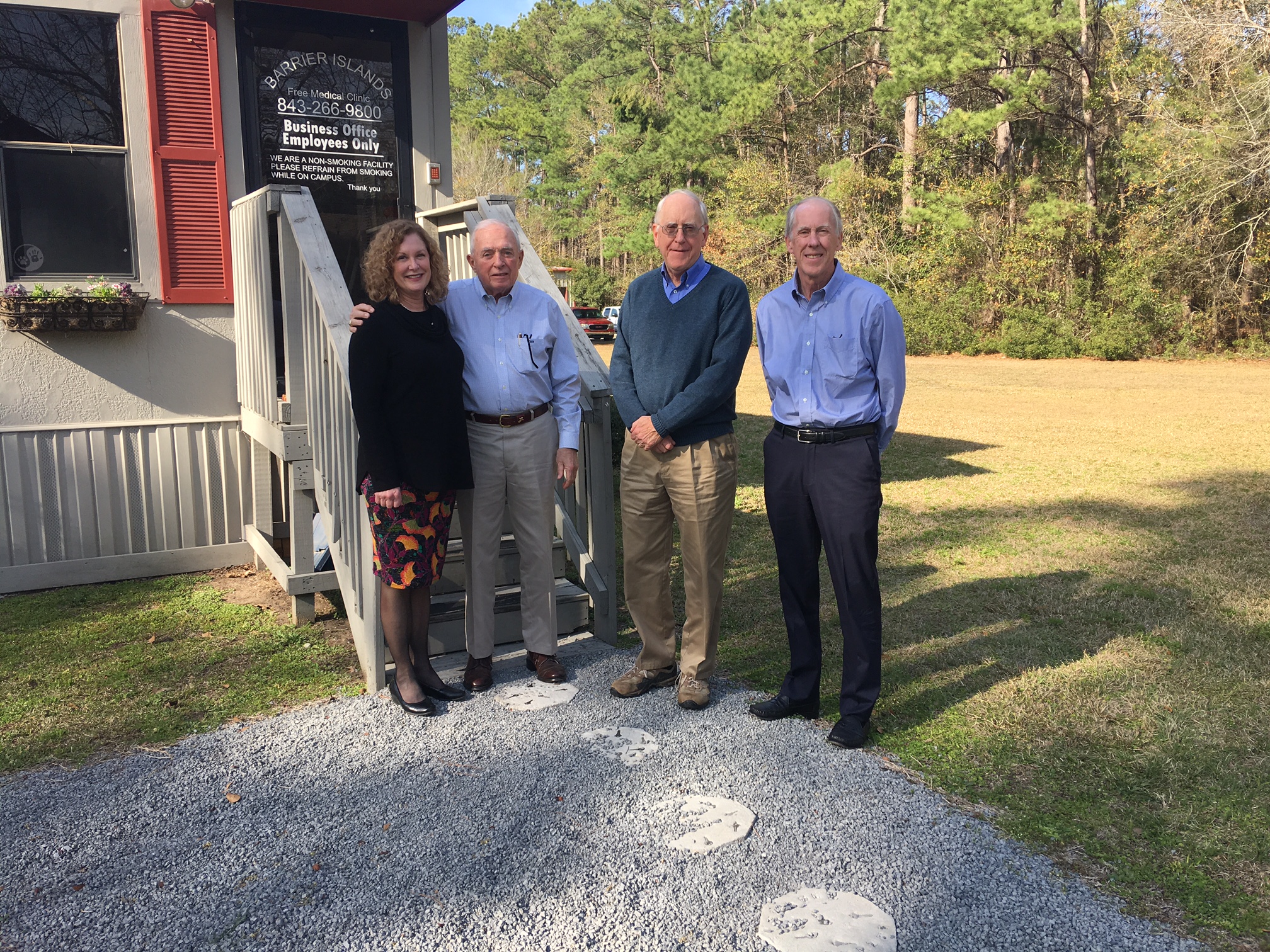 This month, we shine a spotlight on The Town of Kiawah Island!
The Town of Kiawah Island recently awarded Barrier Islands Free Medical Clinic a grant of $20,000, one of the larger amounts provided to philanthropic non-profits in the community each year.
Following the announcement on February 7th, Town of Kiawah Mayor Craig Weaver paid a visit to the Clinic, where he met with Clinic Director Brenda Falls, Medical Director Dr. Richard Ulmer, Board Chair Dr. Jim Hayes, and Board Member Robert Hill. In a meeting and tour of the facilities, the group discussed the mission and needs of the Clinic and the population it serves on Johns, James and Wadmalaw Islands.
Reflecting upon his visit and the town's decision to award BIFMC with a large charitable contribution, Mayor Weaver stated, "The BIFMC fills a critical gap in the availability of accessible and quality health care in our surrounding communities. While financial support for your efforts is important, the dedication and personal commitment of their many volunteer physicians, nurses and staff to the Clinic's mission and to their patients is what most makes your work in the community so successful. Kiawah Island is pleased that we can help support this effort both through the Town's financial contribution and especially through the ongoing individual support of many of our residents and businesses."
The Town of Kiawah also named the Clinic as their "Charitable Contribution Spotlight" organization.
Clinic Director, Brenda Falls, comments, "Thanks to Mayor Weaver and the Town of Kiawah Island, the uninsured, low income patients we serve will continue to receive free health care. We are so grateful to be among so many deserving charities represented as a 2017 Charitable Giving Selection. The Town of Kiawah and its residents have been supporters of our mission since opening the doors in 2008. Our patients, volunteers and staff extend our sincere gratitude for the generosity and compassion of The Town of Kiawah Island."
Thank you to Mayor Weaver and the residents of Kiawah Island for their commitment to supporting the needs of our uninsured community members and neighbors!
Read The Town of Kiawah Island's full feature of BIFMC on page 6 of their newsletter.
You can learn more about The Town of Kiawah Island's charitable giving requirements here.
If you are interested in making a charitable contribution to Barrier Islands Free Medical Clinic, please click here. To learn more about how your generous donation helps our patients, click here.
You can find all of our previous Donor Spotlight features here.
Barrier Islands Free Medical Clinic provides medical care to eligible patients, just like any family practitioner or internist – but it is free. We serve uninsured adults living at or below 200 % of the Federal poverty level who live or work on Johns, Wadmalaw or James Islands. You can follow us on Facebook, Twitter, Instagram and YouTube.
A Day to Look Good - and Feel Even Better. BIFMC'S Annual Fashion for a Cause and Sip n Shop will take place from 11am...